Case Study: Fixing Salt's Broken SEO
Salt is the hottest cafe in Narooma. In the face of lockdowns, regulations and periods of mandated inactivity, their customer base has skyrocketed over the past few months.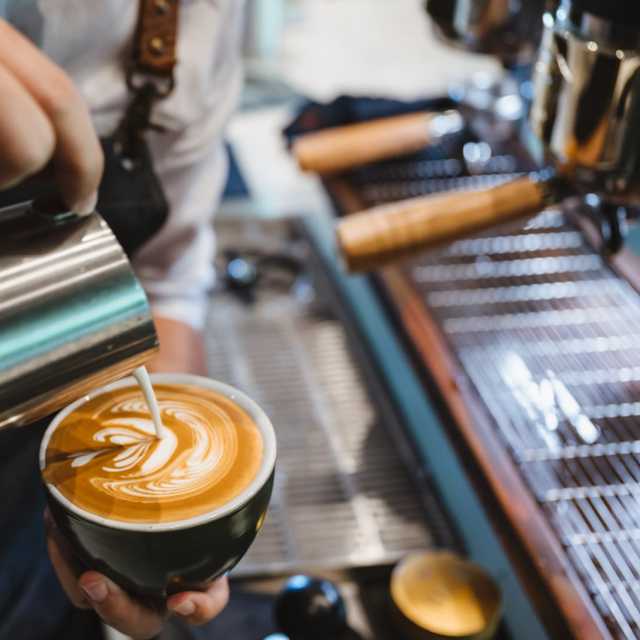 Salt is the hottest cafe in Narooma. In the face of lockdowns, regulations and periods of mandated inactivity, their customer base has skyrocketed over the past few months. Their location right on the marina, they serve some of the best and most scientifically made coffee in the Eurabodolla.
Despite this rise to fame, customers often ask why they can't see their menu online and raise concerns that their website isn't live.
This was news to the owners, Caroline and Immy, who had gone through an extensive branding and website development process to create a site that looks stunning and is informative.
As their technology partner and original creator of the website, we did a quick analysis of their site to see what issues we could find.
The image above is an extract from Ahrefs, which is the platform we use to analyse technical search engine optimisation issues. Despite the site scoring 92/100, the problem is immediately obvious. The site has no backlinks.
Backlinks are simply a hyperlink from another site. For instance, if we were to link to saltofthecoast.com.au in this article, Google would identity this as one backlink. If 100 other sites around Eurabodolla were also linking to the Salt website, Google would realise that it's a site that people are looking for. This is one of many signals Google uses to escalate content on its search results page.
There could be other issues hiding in the Ahrefs report, so we decided to dig a little deeper.
The only major issue is a couple of duplicate pages that don't have canonical links to tell Google which is the original. These issues should be solved at some point, but they're not as important as the lack of backlinks.
Technical SEO is one part of the bigger equation. Arguably more important is the content of the website. Google can only figure out when to show a website if it can read the site's content and interpret the reason it was created.
Here's the general rule of writing SEO friendly content - it needs to have logical keywords included so Google can figure out when to show the website.
Salt is the "cafe in Narooma" and it's located by the "Narooma marina". The quoted keywords would be our rough guess on what customers would be searching for. There could be tons of other great keywords. Unfortunately, the website isn't using the right words so Google can't figure out when to show the site.
Doing some quick research, it's obvious that customers are searching for Salt. "Wharf cafe Narooma" is another way of describing the marina. These keywords desperately need to be included in the top fold of the Salt website. Their combined search volume will result in hundreds of monthly clicks to the website.
The final issue we noticed was the markup that was used to connect the online menu hasn't been rendered as a link. Arguably, the biggest reason for visitors to come to a cafe website is to view the menu.
How to fix these SEO issues
The plan for fixing the SEO issues is relatively simple.
Build backlinks
Write keyword-rich website copy
Turn the menu into a link that opens in a new tab
Build backlinks
The quickest way to build a good backlink profile for a local business is to find other local websites that will allow articles or profiles to be created that link back to the target website. There are plenty of these services around, but the most notable ones are:
Local business directories
Partners and suppliers
Then there are a host of other online services that allow content to be written and hosted on their services. Most of these businesses will serve links as "nofollow" which essentially tells Google to deprioritize their value as a backlink. There's a lot of debate on this topic, but the bottom line is that including these links is still valuable.
Services that fall into this category:
Another creative approach to this problem is to reach out to the cafe's partners with a quick email providing them with the simple steps of creating a backlink. Salt is in a unique position to make use of this approach because they're dedicated to creating food using produce from around the Eurobodalla.
Executing the plan
Backlinks from directories
We knew building a solid backlink profile was going to take the most effort, so we decided to start here first. The goal was to acquire as many dofollow OR nofollow links as quickly as possible. The site can't afford any penalties from Google, so we avoided any sites with spam scores over 2%.
Trip Advisor
Salt has a profile on Trip Advisor but it doesn't have a picture or any reviews. It's also one of three duplicates competing for the same physical address! Both of the duplicates are higher up the list.

Luckily for the Salt team, Tripadvisor deals with this situation all the time. Salt purchased Coral at the Marina, which was previously Marina Coffee. To remove the old business listings, the new owners just need to verify that their business is located at the same address.
This process was fairly simple. Log into TripAdvisor using the Salt credentials, create a support ticket explaining the situation and provide the details to verify the business' location and ownership status.
I wanted to see which other sites were responsible for distributing traffic based of the "Best food in Narooma" keyword. Trip Advisor easily held the top spot, but Destination NSW was not too far behind.
After a quick poke around their site, I saw that they accept business listings. Before chasing any unknown site, it's important to quickly review their domain rating and spam scores. Allowing a spammy site to point a link to your domain will result in Google handing out a penalty.
With a domain rating of 67, and a spam score of 1%, Destination NSW is the perfect site to help boost the Salt backlink profile.
The process for creating a profile on Destination NSW is simple. The guidelines can be found here. For the sake of SEO, it's important to keep the keywords in the cafe's description consistent. We had already identified "cafe Narooma", "wharf cafe Narooma" and "best food in Narooma" as three of the most important, so we worked these into the description.
Another website pushing the "best food in Narooma" keyword is GoodFood.
These kinds of blogs typically charge a fee to feature a backlink and writeup. In this case, it seems like they're happy to receive new submissions by a simple Wufoo form.
It doesn't look like this will result in a backlink, but it's possibly worth the referral traffic. Another signal Google looks out for is the number of users interacting with a website, so any means of pumping up that statistic will help.
Australian Good Food Guide (AFGF)
AFGF is the kind of low hanging SEO fruit that new businesses can make use of when they first spin up their website. They have a decent domain rating, a low spam score, and creating a listing is free (or seems to be).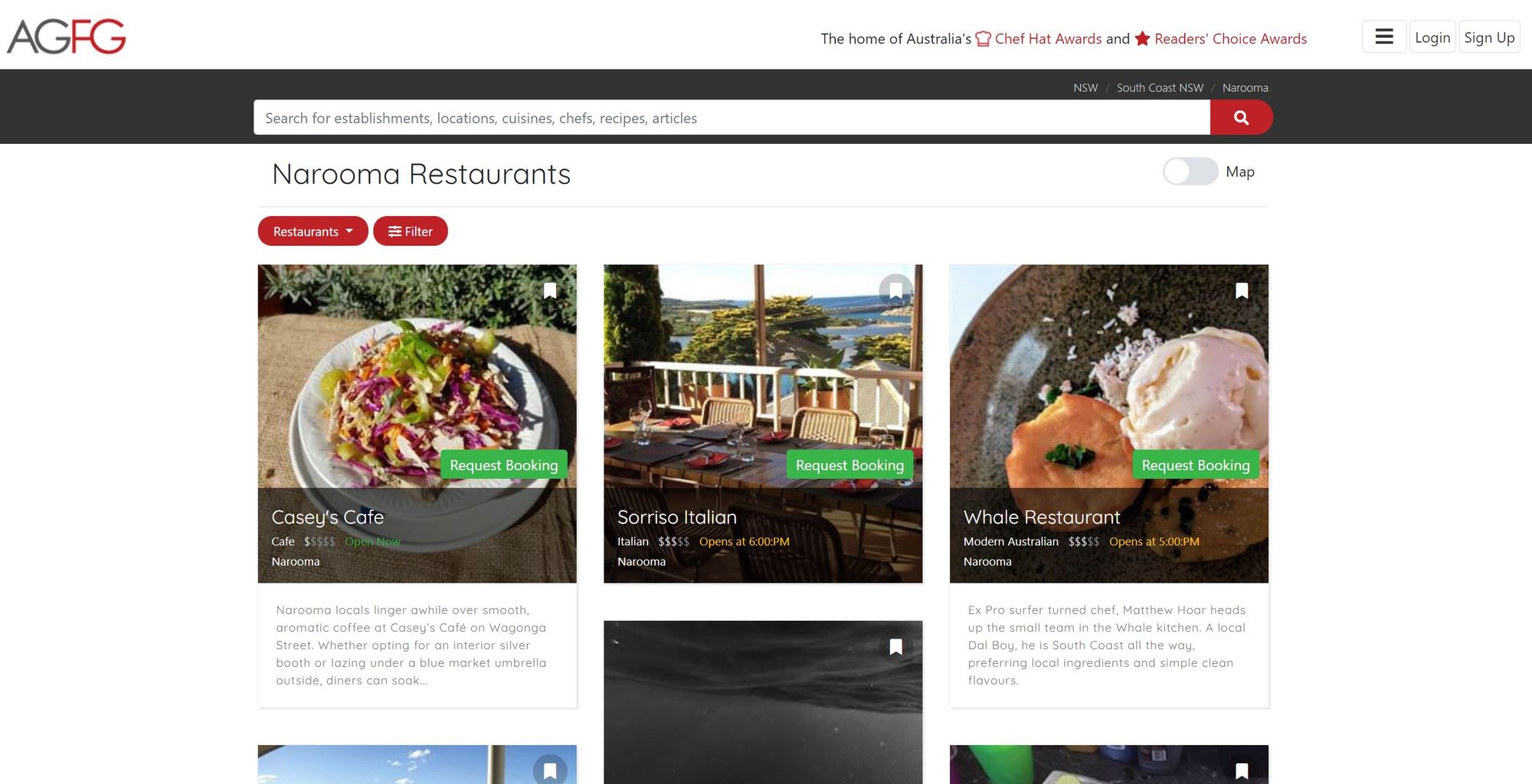 After creating an account, all we have to do is run through a simple profile setup wizard and our new listing will be spun up in a day or two.
Backlinks from suppliers and partners
The next step was to write to Salt's suppliers and partners. Most of these businesses have websites and theoretically should be willing to provide a link, especially if we write a simple blog post for them that advertises their products.
We didn't want to spend too much time on this part of the mission because the majority of the suppliers and partners' websites have a low domain authority and won't bring a huge boost in SEO.
We drafted up an email that could be tweaked a little and sent out to all the suppliers:
Dear [supplier],

Hope you're doing well! Our customers are really loving [your product].

We're reaching out to ask if you would mind publishing a short article about the fact that you're supplying Salt? We've written the article for you, so all you need to do is publish it on your site.

Our website needs a bit of a push, and having our suppliers write articles about us will really help.

We've already written an article that features you guys over here!

Thanks :)

The girls from Salt
There are a few things to note about the way this website was written. Firstly, we don't want to get too wrapped up in the reason we're asking them to publish the article. Most small business owners don't know that much about SEO, so trying to explain the concept of backlinks would be a waste of time.
Secondly, any good backlink builder knows you never, ever EVER ask for something without offering something else in return. In this case, we're offering them a mention in an article  we wrote ahead of time that features all of Salt's suppliers. The links were added as "nofollow" to avoid Google applying any penalty for link-swapping. We also offer to write the content for them. Anything we can do to reduce the friction to them saying "yes" will improve the chances of getting that backlink.
The article we ended up sending out was only a few paragraphs long and featured images of the product, along with a short description of Salt's cafe. We were careful to change the wording in each article to avoid any kind of plagiarism penalties.
Backlinks to avoid
Avoiding spammy backlinks is something I learned the hard way with my own website at the start of 2021. Google is very quick to penalise websites that receive a lot of spammy backlinks. You can see in the image below the impact it had on our traffic:
The two red arrows mark the points when I went out and signed up for a number of local business directories without properly researching them first.
Keeping this lesson in mind, I found a few websites we could have listed the Salt site on but choose to pass up.
Bestrestaurants.com
Bestrestaurants.com was a bit of a 50-50 choice. While it showcased a couple of reputable restaurants from Narooma, it also had a spam score of 7%. This isn't a high score, but it's better to be safe than sorry and avoid any possibility of feeling Google's wrath.
Localsearch.com.au
Localsearch.com.au is nicely styled and looks legit but also throws up a few red flags. Firstly, none of the businesses they advertise has a profile picture. Secondly, their list of Narooma restaurants is limited to three entries. The most likely outcome is that these entries were generated automatically by the platform rather than created by the owners.
These kinds of aggregation sites often take content that's not theirs in order to get traffic, which they monetize in any way they can. This practice often results in spammy traffic scores.
Write keyword-rich website copy
Google prioritises the wording of any website's homepage above any other page. Getting the content right on the Salt homepage will go a long way to fixing their SEO issues.
Before we started writing, the first couple of paragraphs on the website read:
A locally sourced and supported cafe that evolves with the seasons, and the community.

We want to promote and showcase the region's produce and people through our food and events with a strong focus on simplicity, sustainability and salt of the earth hospitality.
While this write-up explains the cafe's mission, it doesn't answer the question that visitors (and Google) want to know when they first arrive on the website: who are you and what do you do?
The revised description should feature these answers in the first two paragraphs. Ideally, the headline should explain this in plain terms and be backed up by the next paragraph.
We ended up changing the wording to read:
Salt is a cafe in Narooma that sources ingredients from the Eurobodalla.

Located at the Narooma Marina, our food and events showcase the local region's food and people. We pride ourselves on sustainability, hospitality and simplicity.
We didn't want to take away any of the personality that the original copy had invested, but we needed to add some keywords to give Google a better chance at figuring out what the site was promoting.
The next section of content on the website read:
order online

During the covid lockdown, we have sadly closed the deck for dining in-house. Our entire menu is still available for take away, and you can come in or order online for pick up!

(click here for the full menu)[https://saltofthecoast.square.site/]
We changed this section to read:
Salt Narooma Menu

Click the link below to view our menu. Our fresh ingredients are largely sourced from the Eurobodalla. This means our menu changes with the seasons. Make sure to check back regularly!
Besides adding the "Salt Narooma Menu" keyword, this section wasn't written to improve the site's SEO as much as it was to better inform customers why they should view the menu.
The website started with only two available sections to rewrite. This was a problem because there were still valuable keywords left on the table such as "wharf cafe Narooma" and "south coast cafe".
When we built the website we made sure that the Salt team could add new content sections easily. The site's content is managed by Prismic and is set up so new sections can be easily added to any page.
All I had to do to push more content onto the homepage was log into Prismic, open the homepage, add a "slice" and write an additional paragraph of text:
We serve a variety of local produce and seasonable dishes, including gluten-free and vegan options. We do not accept bookings since the water-side seating space is limited. Come down to the Naroom marina (sometimes called the Marina wharf) and enjoy a coffee while relaxing next to the water!
The aim of this passage was to answer some of the more common questions that customers have around bookings while mixing in a couple of natural keywords.
There's still quite a lot of room for improvement in the content. The next step is to write a weekly blog post updating customers on the general ongoings of the cafe. For an online business, we would target particular keywords, but Salt is a brick and mortar operation so keywords should come naturally as the topics will rotate around local partners and events.
Turn the menu into a link that opens in a new tab
It's safe to assume that a decent number of customers are arriving on the website with the hope of checking out the menu. Salt changes their dishes regularly to stay up to date with seasonal fruits and vegetables so the menu is more dynamic than a regular cafe.
We simply needed to reconfigure the website to render the markdown so it would return a link that would open in a new tab. The idea here was to allow users to view the menu but keep the Salt website open to improve our page view time metrics, which influences Google's opinion of the site.
We tossed up the idea of using a third party menu hosting service but decided against it. There's no real "king" in this department, and we would effectively be lending out the website's traffic.
Results
You'll have to wait for the results! I'm sorry, I know it sucks, but the changes are currently being implemented and we're expecting them to take a couple of weeks to have any kind of traction. "Couldn't you have waited to post the article?" you ask. Well, yes, I could have, but I wanted to share both parts of the process. Chances are that when the results come through there will be more changes to make. SEO is anything but a linear process. It's a process of small trial-and-error changes.
Salt's struggles may resonate with your website, but every site is different. Some sites we've worked on have had a great backlink profile but have shown incredibly poor technical optimization. This is a problem business owners really struggle to clean up, but usually isn't an issue for our team since that's the kind of work we do all day, every day.
Feel free to comment with your own SEO problems or questions and we'll provide advice if we can!
Written by
Tim Davidson
Tim is the face of the company. When you want to kick off a new project, or an update on your existing project, Tim is your man!