How can UX Design help your blog?
If your website doesn't have a blog, your business is ignoring a huge opportunity.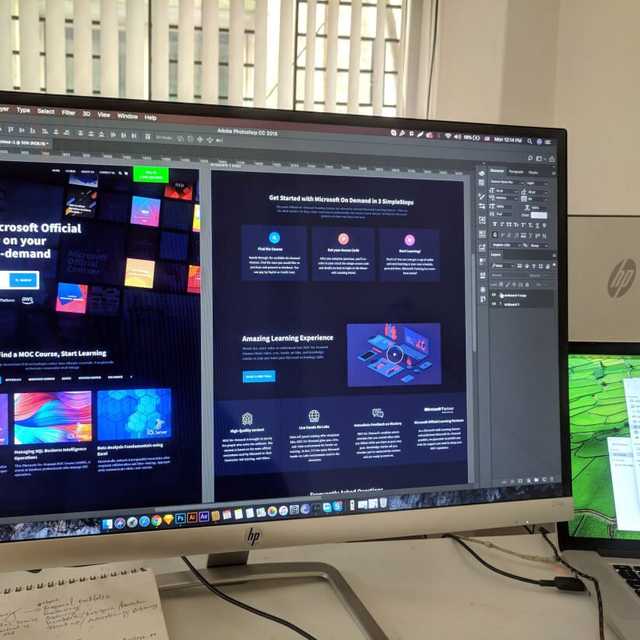 If your website doesn't have a blog, your business is ignoring a huge opportunity. Gone are the days where just having a website would get you noticed. There are 2 BILLION websites.
Let that sink in for a second. That's a website for every fourth person on the planet…
Chances are there are tens, hundreds, even thousands of websites advertising businesses similar to yours. The level of competition is hard to conceptualise.
Everyone is trying to get noticed, and if your content is good enough in Google's eyes, then this is completely achievable even for small businesses. So it's no surprise that just about every serious website is posting regular content.
Blog articles are a great vehicle for attracting new audiences to our website and building a brand identity. This allows us to translate readers into potential customers.
A report by Hubspot shows that running a company blog translates into a 55% increase in website visits. These visitors are often the lifeblood of a business. They become email subscribers, purchasers, and clients - ultimately contributing to the bottom line.
But what if our blog does not generate leads? What if you're getting traffic with a super high bounce rate? Or what if your readers are sticking around and never turning into customers?
Unfortunately the answer to these questions is not clear-cut. Every website is unique and the spectrum of issues our modest team has seen is… large.
There is one constant that we've seen improve the money-making performance of every blog we've worked on; user experience.
The better the user experience, the greater the chance the content will be consumed by the visitor, which moves them closer to achieving the goal of the website.
In this article, I will describe how taking care of good UI/UX principles will help your readers have a better experience on your blog, and ultimately improve the likelihood of them coming back.
1. Typography
Sounds innocent, doesn't it? Well, it isn't. A blog is mostly text so properly adjusted font is a key way to keep readers' attention for longer. After all, no one will read our wonderful post if the letters are so small that readers will have to squint their eyes. Or if the line spacing is so small that the lines of the text will blend together and reading the text will induce a headache.
Let's not exaggerate the other way too. We should make sure that our text is readable and accessible for all users.
Adjust size, contrast, line spacing, and weight. The easier it will be for the person on the other side of the screen to read the article, the greater the chance that it will come to the end and (hopefully!) become familiar with our offer.
2. Content width
Did you know that people prefer shorter lines of text when they read text online?
The digital world dominated by social media has accustomed us to high dynamics and thus we have become more impatient. Consequently - by using a narrower width of the text, we force the reader to jump between lines more often, which makes the text easier to read.
We don't have to refer to the internet world anyway. Newspapers also benefit from this practice. We rarely notice situations where the text line is the full width of the page. The shorter lines of text just seem more organized and easier to read.
3. Accessibility
It's difficult to describe in a few sentences how important it is to make our website accessible to everyone.
In Australia, 4.4 million people (about 1/6 of the population) have some form of disability. It's therefore very important and even necessary to achieve proper accessibility.
This not only has a positive effect on the reception of our blog, but also on brand identity. After all, we do not want people with e.g. visual impairments to be unable to read anything on our website.
What can you do? There are a lot of things to be aware of, but there are some improvements that can be implemented very quickly and easily.
Text contrast - make sure that the contrast ratio is at least 4.5:1 (level AA), and if the text is from 14px to 18px this ratio changes to 3:1. You can use this handy tool to check.
Describe your photos - the purpose of describing a photo is to be as informative as possible. Try to ensure that the description of the photo best reflects what is on it.
Bad example: a cup of coffee
Good Example: a man in a suit holds a cup of coffee
Make sure that the photos are not crucial to understanding the text, but only to complement it.
Use white space - sounds mysterious but it's basically very easy. Let's try to keep our headers and other elements clearly separated and grouped.
Here's a great article with more about accessibility in design.
4. Responsiveness
If you've had any contact with UX design, you would have come across responsiveness at one point or another.
It is not surprising, after all, ensuring that our blog is displayed correctly on all devices is directly related to how many users it will attract. According to StatCounter, the internet is dominated by mobile users (55.55%), followed by desktop users (41.61%).
You should also bear in mind that these devices have different resolutions. Our blog may look completely different on a 13-inch laptop display and a 27-inch Mac, even though both of these devices are in the same category (desktop).
A plugin called Window Resizer for our browser can help you check your site's responsiveness. It allows you to check the appearance of websites on the most popular resolutions. Once you find an issue, squash it as quickly as possible to keep your readers happy.
5. Page loading speed
We've got no time to wait for things to load. We want everything fast, and we want it now.
Waiting for someone in the line ahead of you at the supermarket is boring. You feel like you're wasting your time. So why would you ever replicate that experience on your website?
If your users click something on your site, they expect an immediate response. A blog that takes too long to load is going to make people feel like they're wasting their time, and they will leave.
Jakob Nielsen - one of the most famous specialists in the field of UX stated that the reaction time of the website to our action should not exceed one second. The higher this value is, the more likely the visitor will leave the site immediately. In most cases, the user will leave our website if it takes longer than 10 seconds to load.
Realistically, if your site takes more than 4 or 5 seconds to load, you're going to lose a lot of people. They won't just leave, they'll associate your business with a website that doesn't work properly.
6. Remember the goal of your blog
The key to good UX Design is to make the platform useful for the readers, while achieving goals for the business.
There's a ton of different ways to monetize traffic to your website; showing them paid advertising, getting them to purchase affiliated products, selling them subscriptions, or getting them to reach out to you directly to purchase a service, just to name a few.
Whatever your approach, you need to make sure your readers have easy access to the call to action or money making resource regardless of where they are on the page. If they can't find the call to action, it's effectively useless.
It is a common practice to place a call to action at the bottom of an article so the reader is not left "on their own'' after reading the text.
You should also consider putting your call to action in a more accessible place, as only 20% of users read the article to the end. Adding something to a sticky-header can be an effective move if it makes sense. Another good tactic, especially for longer blog articles is repeating the call to action in several places.
Keep in mind that the average visitor to the blog only reads the first 25% of the article (sometimes not even that much).
7. UX is not only about design
A website with great usability must also present itself with excellent content. After all, that's what it's all about. The content you write should be:
Clear (write understandable, use the language of your audience)
Concise (the text must be clear, without empty sentences)
Useful (give users useful information and value)
Consistent (keep the same style and terminology)
Nothing will attract the person to revisit your website more than getting real value from your articles. Throw quick load times, beautiful typography and an easy reading experience into the mix and you're well on your way to establishing a business-growing website.
Wrap up
Designing, developing and running a blog is by no means easy. It often feels like a never-ending job. Here at Clean Commit our team has sunk hundreds of hours into our blog and it's still in its infancy.
It's a long and time-consuming process, but it's also one of the most powerful digital strategies for launching your business into hyperspace.
Our advice is 'stick at it' and use some of the tips in this article to get you UX tuned up as your next step in the journey.
P.S. If you're a designer and hunting for jobs you can find UX designer vacancies at Jooble.
Written by
Tim Davidson
Tim is the face of the company. When you want to kick off a new project, or an update on your existing project, Tim is your man!