Commercetools vs Hybris: The Battle For Enterprise eCommerce
Commercetools and Hybris both cater to the enterprise market, but with different approaches. We compare the two tools.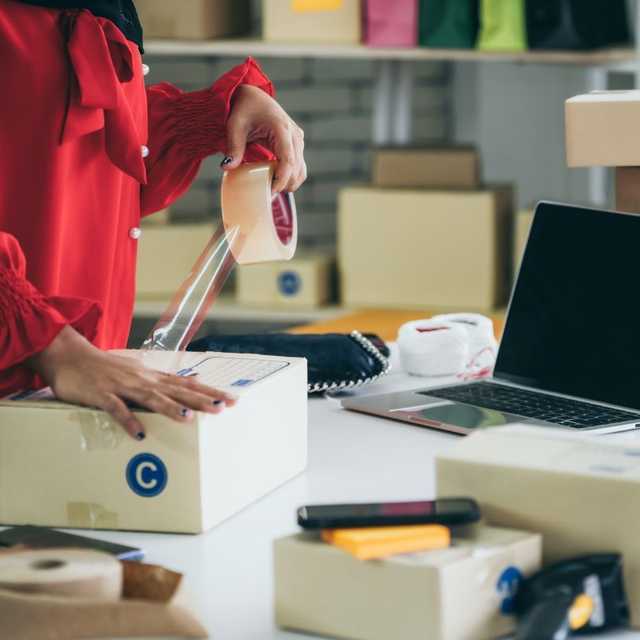 There aren't a whole ton of high-quality articles written about Commercetools and Hybris. Not when you look at the number of articles comparing Shopify and WooCommerce.
This trend makes sense, given anyone can spin up a Shopify or WooCommerce store with little help and budget. So every man and his dog has taken a stab at writing a comparison piece.
However, it's a much more difficult assignment to write about the next tier of eCommerce solutions that are suited to businesses that have grown in size and complexity. This is the "band" of solutions that includes headless stores, and eCommerce backends like Commercelayer and Crystallize.
These tools are aimed at businesses grossing between $10 - $100 million in sales annually and require custom development just to get up and running.
So it figures that the next step up again, enterprise-focused solutions like Commercetools and Hybris aren't well covered. They can only really be assessed by content writers with a software background who have used the tools or done some kind of deep research.
Our team started going down the path of becoming Commercetools partners, which requires a technical exam and comes with a decently large fee. We've also crossed paths with Hybris a few times during our travels.
The target market of these tools is eCommerce giants that need to process extreme volumes of transactions. Commercetools admits that their ideal customer is paying between $50,000 to $80,000 as a monthly subscription fee.
Both these solutions are designed to integrate into sophisticated architectures and a big part of their business model is providing expert resources to assist with development. They carry sophisticated and comprehensive service level agreements to guarantee uptime and quick turnaround of issues.
In this article, we will compare the two platforms, highlighting their key features, pros and cons, and the industries they are best suited for. The goal here is to provide a comprehensive overview of both platforms and help you determine if one of these tools is the fit for your company.
Commercetools overview
Commercetools is a highly scalable, cloud-native platform that provides a comprehensive suite of eCommerce functionality. This platform leverages microservices architecture to deliver a modular, flexible, and customizable solution that can be tailored to meet the unique requirements of each business.
Commercetools is a member of the MACH alliance and one of the driving forces behind modern, modular commerce. They boast some large clients like Audi, Lego and Burberry just to name a few of the better known companies.
Features of Commercetools
Product Information Management (PIM) System
At the core of Commercetools is a robust product information management (PIM) system that enables merchants to manage their products, prices, and inventory in real time. Unlike systems like Shopify, where product information is standardized, Commercetools provides flexibility to model the product information however is required.
Order Management System (OMS)
The OMS provides real-time order processing and fulfillment capabilities. This enables merchants to manage their orders, shipments, and returns efficiently, ensuring customers receive their orders quickly and without issue.

Shopping cart and checkout system
Commercetools provides a robust set of APIs to build dynamic shopping carts and checkout systems. Like everything else in the Commercetools engine, the cart and checkout offers deep customization for things like applying tax rules, calculating shipping, discounts, rounding values, duplicating carts and a whole range of other features.

Payment processing system
Commercetools doesn't have its own payment engine. Rather, it integrates with any payment gateway that can be called by API like Stripe and Adyen. The payment system works by specifying the interface (i.e. gateway) and provides a set of endpoints to trigger actions.

Customer management system (CRM)
The platform has flexible tooling for managing customers' accounts, profiles and connected orders.

Commerce APIs
Arguably the most important feature of Commercetools is it's extensive and robust set of APIs that can be used to perform any imaginable eCommerce activity.
Advantages of Commercetools
Commercetools is an excellent platform for medium to large businesses because it can handle large volumes of transactions and has tools designed specifically for businesses that operate at scale.
However, since we're comparing Commercetools to Hybris, these are the points of difference that rule in Commercetool's favour:
Microservice architecture
Commercetools is designed to work on its own as an isolated service which communicates by API. This holds a ton of appeal for businesses that don't want to leverage functionality and bring it into their existing architecture, rather than rebuilding everything to work inside a new monolithic application like Hybris.

API-first
Hybris also has a mature API, but Commercetools is API-first. The design of the entire platform was built around serving functionality over API. This approach lends itself to modern frontend tooling like Angular, React and Vue.

Cost
Commercetools isn't exactly cheap, but for medium to large businesses that have budgeted hundreds of thousands to millions of dollars in annual software expenses, it comes out significantly cheaper than Hyrbis.

Customization
This point could probably be argued because Hyrbis can be modified to meet most uses cases. However, the decoupled nature of Commercetool's service makes it easier to customize its implementation.

Community
Commercetools has a growing community of early adopters. Community engagement is high and finding support is simple. While the community isn't as large as Hybris, the focus is on bringing modern solutions to existing problems.
Hybris overview
Hybris is one of the incumbents in the enterprise eCommerce market. It provides medium to large businesses with a range of tools and features for creating and managing online stores. Hybris is designed to help businesses sell their products and services online, manage customers and orders, and provide a personalized shopping experience.

Hybris is known for its range of customization options, including custom integrations and the ability to build custom extensions.

It's a mature platform that has been around since 1997 (making it ancient in the tech world) and has a large and established community of developers and users. This can make it easier to find support and resources but has rendered it a less agile solution for solving modern problems when compared with Commercetools.

Features of Hybris
Hybris has similar features as Commercetools. They include

Product Information Management (PIM) system
The Hybris PIM system is designed to help businesses manage product information, including product data, images, and attributes, and distribute this information across multiple channels and touchpoints.

Order Management System (OMS)
Hybris' OMS system handles order processing and fulfillment, order tracking returns and cancellations including refunds and customer communication, inventory management and customer service tooling.

Shopping cart and checkout system
The Hybris shopping cart and checkout system provides customers with an easy and convenient way to purchase products and services online, and it is designed to help businesses increase sales and conversion rates.

Payment processing
Hybris doesn't have its own payment processor. Instead, it integrates with a range of payment processors, including PayPal, Stripe, and others, making it possible for businesses to accept payments from customers using a variety of payment methods.  

Customer management tools
The Hybris platform has all the functionality to manage customers including individual and aggregated customer records, sophisticated customer segmentation, customer engagement tools, loyalty programs and analytics.
Advantages of Hybris
Hybris is a more comprehensive approach to mid-market and enterprise eCommerce. Unlike Commercetools, there's no need to build a separate frontend. Hybris comes with its own templates, theme and components, as well as a JavaScript framework called SAP Hybris Commerce.

Given that it operates as a single entity, Hybris offers some unique features and benefits:

Multi-channel capabilities
The multi-channel capabilities allow businesses to reach customers through multiple channels, including eCommerce websites, mobile apps, and physical stores. Since the eCommerce operations are managed from a single system, Hybris offers a way for businesses to create a seamless and consistent customer experience.

Extensive customization
One of the key customization options provided by Hybris is the ability to create custom extensions to the platform using Java. Hybris provides a comprehensive Java development kit (SDK) that makes it easy to create custom extensions, including new features and functionalities, and to integrate the platform with other systems and technologies.

Hybris also provides a range of APIs that enable businesses to access and manipulate data stored within the platform, including product information, customer data, and order history.

Integration options
Hybris provides a range of integrations with leading e-commerce platforms, such as Magento, Shopify, and Salesforce, as well as with a range of payment providers, such as PayPal, Stripe, and Adyen. These integrations make it easy to connect Hybris with other systems and to extend the platform with new functionalities and capabilities.


Robust Architecture
The robust architecture of Hybris allows businesses to scale up or down as needed, providing the flexibility to accommodate changes in business needs over time.

Large Ecosystem
Hybris has a large ecosystem of partners and developers, providing businesses with access to a wealth of resources and expertise.

Mature User Community
Hybris has a mature user community, providing businesses with access to a wealth of knowledge and support.

Let's compare the two platforms by identifying their similarities and differences.
Commercetools vs. Hybris: Comparison
Similarities between Commercetools and Hybris:

Omnichannel commerce
Both platforms provide a comprehensive solution for selling across different channels, such as online stores, marketplaces, physical stores, and mobile applications, and provide a centralized platform for managing all sales channels from a single location.

Scaling for enterprise volume
Given the target market for both platforms is enterprise business, they're both designed to handle huge volumes of traffic and data. Both platforms offer highly robust service level agreements stipulating that they'll maintain almost-perfect uptimes or pay exorbitant fees.

Customization
Both platforms offer a high degree of customization, allowing businesses to tailor their commerce solution to their specific needs and requirements.

Product management
Both platforms provide robust product management features, including product catalogue management, pricing, and inventory management.

Order management
Both platforms offer comprehensive order management capabilities, including order processing, tracking, and returns management.

Differences between Commercetools and Hybris
Customization
The customization options in Commercetools and Hybris differ in terms of approach and tools offered.

Commercetools provides a high degree of customization through its APIs, allowing businesses to build custom solutions that fit their specific needs and requirements. The platform's headless architecture means that businesses can easily integrate with other systems and technologies to build custom commerce experiences. Additionally, Commercetools provides a wide range of documentation and support for developers looking to build custom solutions.

Hybris also provides customization options, but its approach is more focused on providing a wide range of tools and extensions for building custom solutions. Hybris has an extensive library of pre-built integrations and offers a comprehensive set of tools and extensions for customizing its platform. This makes it easier for businesses to build custom solutions without writing a lot of code.

Cost
Commercetools is more cost-effective than Hybris, particularly for smaller businesses and those looking for a more flexible and scalable commerce platform. The platform charges based on the number of API calls made, and the amount of storage used, making it easier for businesses to control costs.

On the other hand, Hybris can be more expensive than Commercetools, particularly for larger businesses and those requiring a comprehensive commerce platform with a wide range of features and integrations. Also, Hybris typically requires a larger upfront investment, and businesses must factor in the cost of licenses, maintenance, and support when budgeting for their commerce platform.

Integrations
Both Commercetools and Hybris provide integration options with other systems and technologies. However, the former relies on its growing ecosystem of third-party integrations that work well with its headless architecture. Conversely, Hybris offers an extensive library of pre-built integrations for various systems and technologies.
Factors to consider when choosing an eCommerce solution
When considering a commerce platform, consider the following factors:
Scalability: It is imperative to assess the platform's ability to handle increasing traffic levels, data, and transactions as your business grows. A scalable commerce platform will allow for smooth growth and expansion without requiring frequent upgrades or replacements.

Customization
The level of customization required will vary from business to business. Some may require a highly flexible platform that can be tailored to their specific needs, while others may prefer a platform with pre-built components and integrations. It is crucial to determine the level of customization your business requires and whether the platform can provide those capabilities.

Integration
The ability to integrate with other systems and technologies is critical to consider when choosing a commerce platform. Consider the systems and technologies your business uses and ensure that the platform provides the necessary integrations and APIs.

Performance
The commerce platform must handle high volumes of traffic and transactions while maintaining fast and reliable performance. This is crucial for delivering a positive customer experience and ensuring the smooth operation of your business.

Cost
The cost of the platform, including setup, customization, and ongoing maintenance and support, should be evaluated to determine whether it fits within your budget. It is essential to consider the long-term cost of the platform and whether it provides good value for money.

Security
The security of your data and transactions is paramount, and the commerce platform must meet industry security standards and regulations. Ensure that the platform provides robust security features and has a proven track record of protecting customer and business data.
Frequently asked questions
Q: Who should use Commercetools?
Commercetools is a good choice for businesses that find Shopify Plus too inflexible and have pushed it to its limits. They're at the point that they need guarnateed uptime and higher infrastructure resourcing to meet their transactional demands.
Similarly, Commercetools is a great platform for an established application or website that wants to introduce eCommerce capacities and needs flexibility in the implementation.

Q: Who should use Hybris?
Hybris is a good choice for businesses that want a more traditional, all-in-one eCommerce solution with a wide range of features and capabilities available right out of the box. Keeping in mind that Hybris is an expensive platform that most medium sized businesses wouldn't be comfortable paying for.

Key Takeaway
Overall, both Commercetools and Hybris are powerful eCommerce platforms that offer a range of features and capabilities to help businesses manage their online stores and sell their products and services online. While both platforms have their unique strengths and weaknesses, Commercetools is an ideal option for businesses looking for an affordable, flexible, and scalable eCommerce solution. Whether you're a small startup or a large enterprise, Commercetools provides the tools you need to succeed in the rapidly evolving world of eCommerce.
Written by
Tim Davidson
Tim is the face of the company. When you want to kick off a new project, or an update on your existing project, Tim is your man!